Mock Pavé™ Textured Sterling Band Within A Copper Wave Energy Ring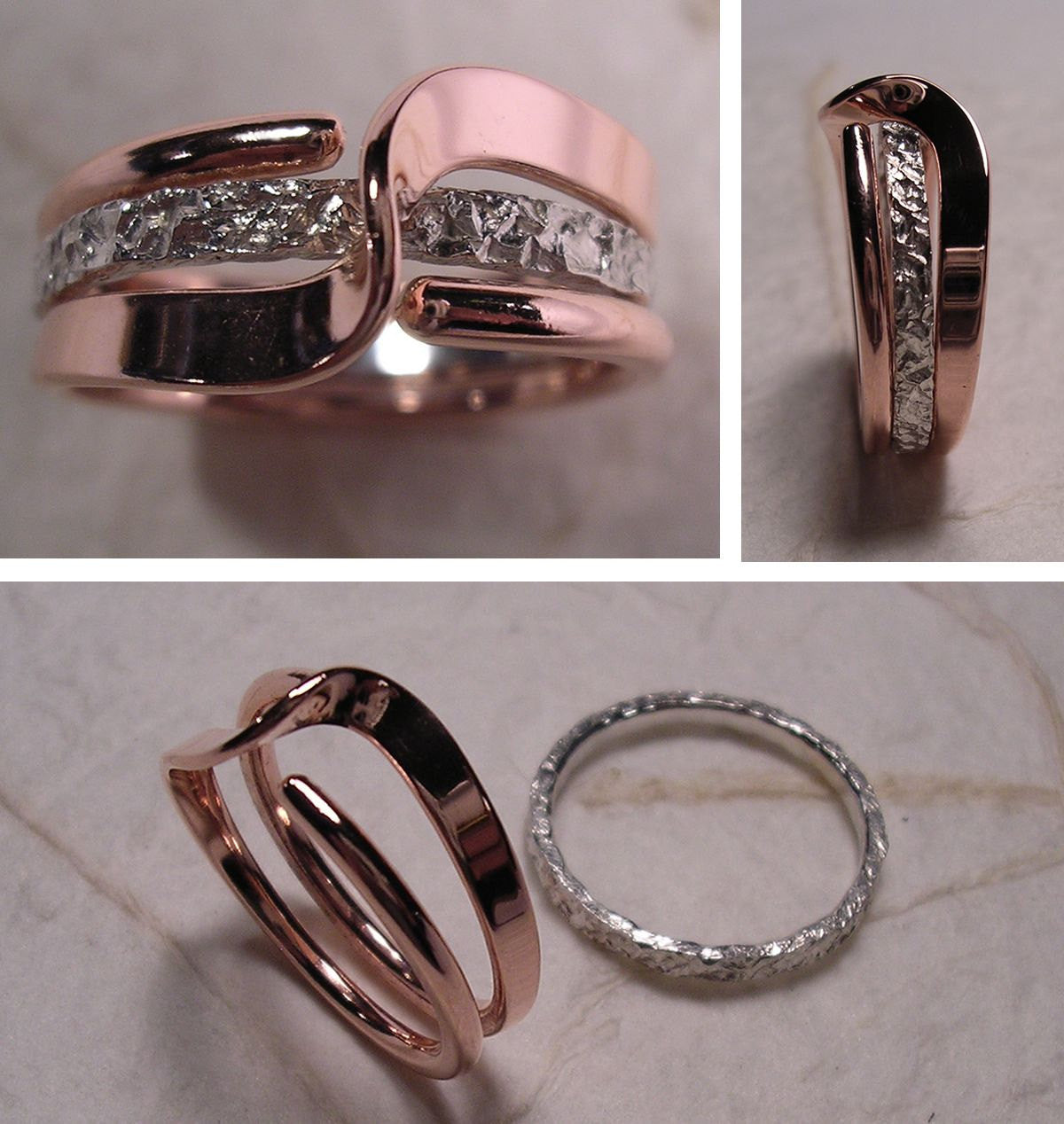 Designer: Isidro Nilsson
This is my new favorite texture. I made this textured band by modifying an old hammer to give me this most interesting finish. After showing it at various shows, a common question was: "Is that a pavé ring?"
The finish actually does look very much like a diamond paved surface. My wife came up with a great response to the question "Is that a pavé ring?".
"Not exactly. "It is a Mock Pavé™ finish.".
I think it is the perfect name since it describes the look perfectly.
So here it is. The Mock Pavé™ band in sterling silver captured (yet removable) inside a beautiful Two Turn Wave Energy Ring made in pure copper. The contrast of the silver and rose colors harmonize beautifully.
The ring is actually two rings that can be worn together or individually. This gives you three different options. The Mock Pavé™ Band, The Two Turn Wave Energy Ring or the two together.
This will make a great engagement / wedding ring. Here are some of the different metals that I can use to create the perfect combination for your custom rings. Just ask me for a quote on your favorite combination.
Pure copper
Sterling Silver
Argentium Silver
14k or 18k Yellow Gold
14k or 18k Rose Gold
14k or 18k White Palladium Gold
Pure Niobium
Pure Blackened Niobium
Platinum
Now that I have created the Mock Pavé™ Hammer, you can order any number of items in this Mock Pavé™ finish . Think of me as your personal jeweler. Browse around my shop and come up with your own custom made Mock Pavé™ jewelry.