Twisted Tri-Metal Classic Bracelet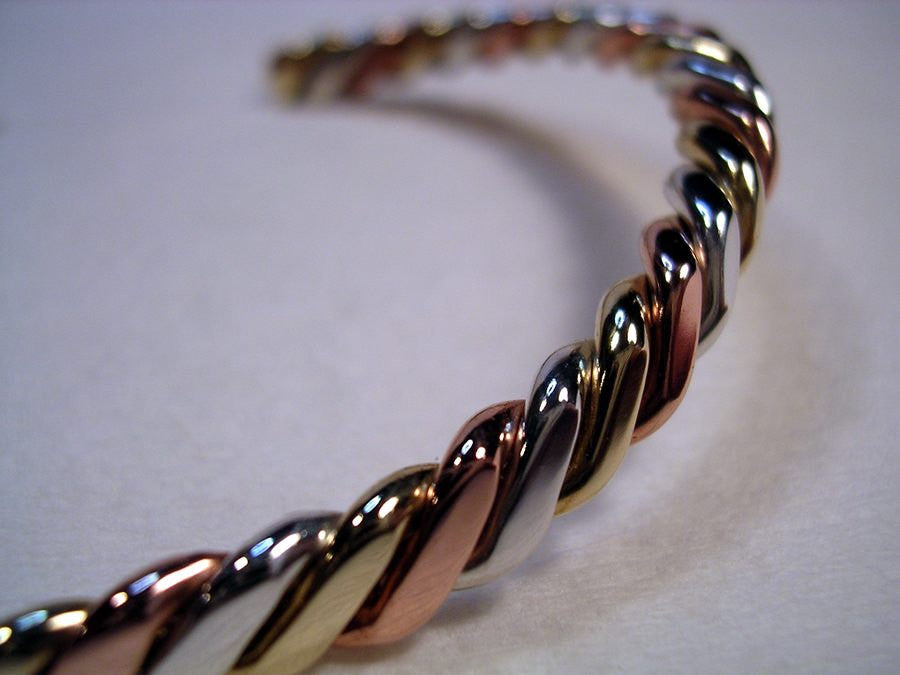 Designer: Isidro Nilsson
This is a twist on the Classic Bracelet. Pun intended. I twisted pure copper, sterling silver and brass to form a solid piece of tri-metal. This in itself made a pretty nice looking bracelet.
But wait. There's more.
Next I forged the tri-metal into my Classic design. What this did was spread the three wires apart a little bit creating what looks like lace. In the central area, where the hammering is most dramatic, you can actually see light coming through the spaces between the wires. Hence, The Lace Look.
The ends are silver soldered with a cadmium free solder (for health reasons) to secure the 3 different metals together. The fact that this bracelet is made of a weave makes it quite flexible so it is easy to put on and off.
The size selection in the options is the actual circumference of your wrist.  This will insure a perfect fit.  If this is a gift or you do not know the wrist size, this is a general estimate. 
For Small, select size 6
For Medium, select size 7
For Large, select size 8