Niobium Classic Style Bracelet in Black with Solid 14K Yellow Gold Rivets for Men and Women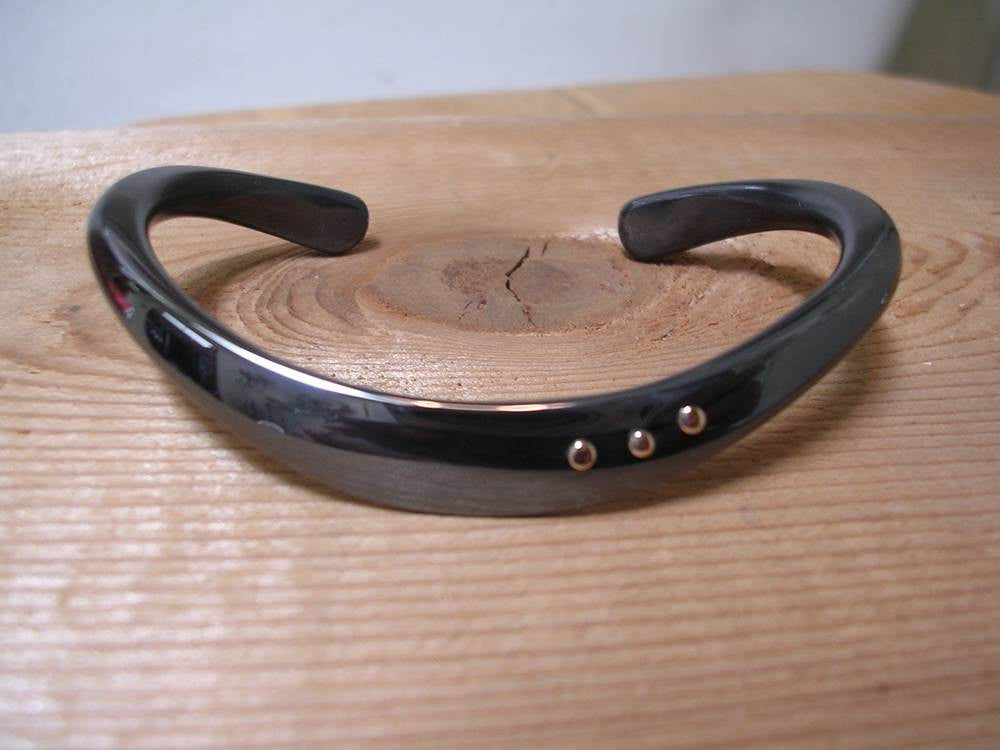 Designer: Isidro Nilsson
Niobium. is Element number 41 in the periodic table. Hand forged from pure niobium and Blackened using my proprietary process.
The process for this bracelet is quite involved. I use 4 different hammers and a rawhide mallet to forge and shape the niobium into this smooth and elegant looking bracelet. To get the smooth finish, I use a hammer as well.
The color is one of the finest touches that I have developed giving this bracelet its unique and mysterious look and feel. The final touch is the set of three 14K yellow gold rivets.
The natural color of niobium is very similar to platinum. Sort of a silvery gray color. I developed a process using a machine that I originally built to color titanium, allowing me to select from a very broad range of colors. Purely by accident, I discovered this incredibly deep black color. It looks like gun metal gray or the stone known as hematite.
There are no dyes or coloring pigments or agents used in the process that creates this very strong finish.
This design which I call The Classic is hand forged to fit comfortably at the base of the wrist. This design is so comfortable and durable that it can be worn 24/7.
For a perfect fit, please give me your actual wrist size and leave the rest to me.