2 Turn Moon Star Energy Ring™ in Pure Copper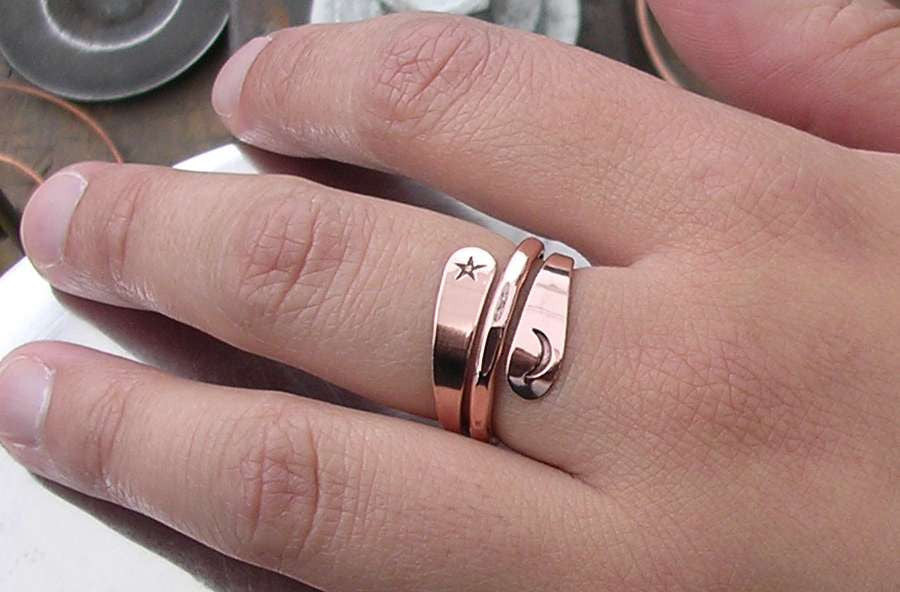 Designer: Isidro Nilsson
This Moon Star Ring is another piece from my Energy Rings™ collection. I made this one from number 10 gauge pure copper wire for a strong hefty final product. Also available in 12 gauge for the smaller ring sizes.
The moon and star stamps I used to make the designs on this ring are made from old car valves as you can see in one of the pictures. Car valve stamping tools not included in this listing.
I love making my own tools and recycling old car valves is a great way to re-purpose scrap metal.
This ring is a size 10.5 but I will make it in any size you need. For sizes 9 or smaller, I can use 12 gauge for a more proportional fit with smaller hands. Just LET ME KNOW THE SIZE you want and if you have a preference of heavy gauge (10 gauge) or standard (12 gauge).